On June 8, 2018, Federal Circuit Judge Richard Linn, on behalf of the Linn Inn Alliance, presented GBC Shareholder Amy C. Ziegler with their Distinguished Service Medal in recognition of her outstanding service for the last several years in bringing the American Inns of Court experience to the Intellectual Property legal community. Amy currently serves as secretary for the Richard Linn American Inn of Court (www.linninn.org/).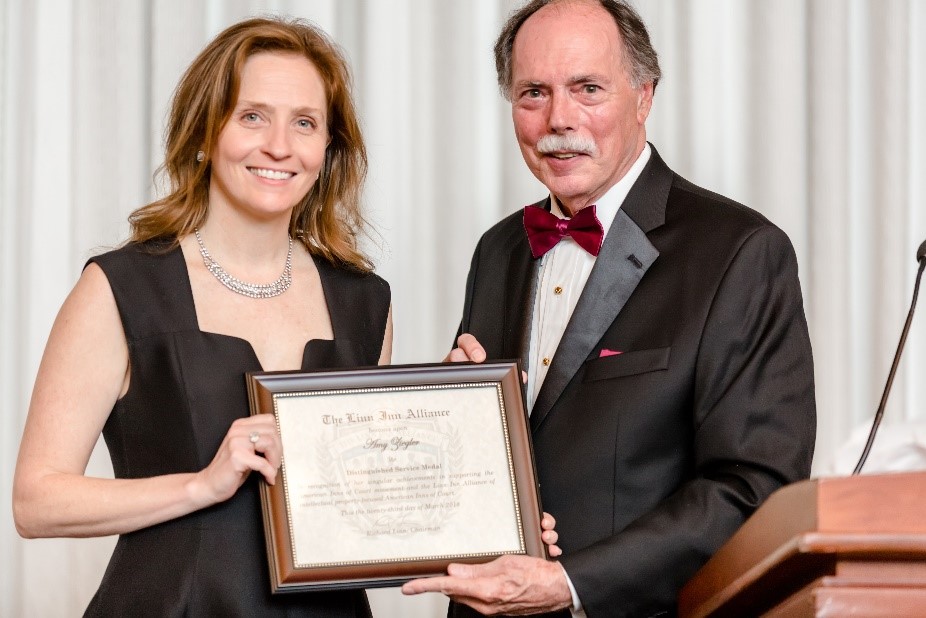 Amy C. Ziegler and Judge Richard Linn at the 12th annual dinner of The Richard Linn American Inn of Court, June 8, 2018.
The Linn Inn Alliance was founded in 2008 as an informal effort to unite the then six existing intellectual property law focused American Inns of Court.  Since that time, The Linn Inn Alliance has become a catalyst in the formation of new IP-focused Inns as well as a vehicle for sharing meeting and program information and for the enhancement of the Inns of Court experience.  There are currently 25 IP-focused American Inns of Court around the country and in Japan (http://home.innsofcourt.org/).
Amy joined GBC from a large general practice law firm, where she was part of a top 5 nationally ranked trademark practice for both prosecution and litigation.  Her practice encompasses all aspects of trademark law.  She manages global trademark portfolios for a variety of businesses and routinely handles high-profile enforcement matters.  According to World Trademark Review "Amy Ziegler's litigation prowess in the branding sphere makes her a perfect fit for rights holders, including Fortune 500 companies, in need of bulletproof strategies. Her capacity for high-stake battles is immensely useful when stamping out counterfeiters."  She has been named one of the Top 1000 trademark professionals in the world by World Trademark Review, one of "The Top Women Attorneys in Illinois" by Chicago Magazine, a Super Lawyer by Illinois Super Lawyers for Intellectual Property and Intellectual Property Litigation, and DePaul University College of Law's 2011 Outstanding Young Alumna.