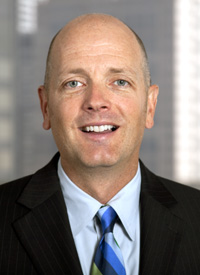 It is with profound sadness that we inform you that Tom Fitzsimons passed away tragically in a car accident on September 22.  It was our great pleasure to practice law with Tom for more than 12 years.  Tom was a great friend, astute lawyer and wonderful husband and father.  Tom will be missed.
Visitation Wednesday, September 25th from 3pm-9pm at Hallowell & James Funeral Home, 1025 W. 55th Street, Countryside IL 60525.
Funeral Thursday, September 26th at 10am, Notre Dame Catholic Church, (please meet at church) 64 Norfolk Ave., Clarendon Hills. Committal Service will follow at Queen of Heaven Cemetery.
In lieu of flowers, friends and neighbors have established an educational fund for Tommy and Fiona at The Northern Trust Company, 4 N. Washington Street, Hinsdale IL 60521. (contact Emilio Salvi). Funeral Home Phone (708) 352-6500. Checks can be made payable to the "Thomas Fitzsimons Children's Fund."
Please contact nvanzeyl@gbc.law with any questions.