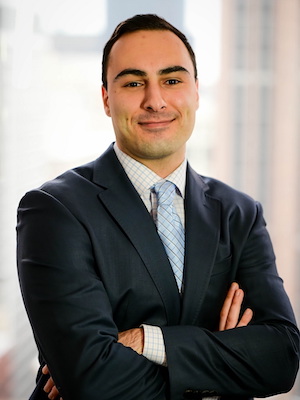 Trevor Talhami is an attorney at Greer, Burns & Crain with a focus on intellectual property protection and anti-counterfeiting litigation.
Prior to working at Greer, Burns & Crain, Mr. Talhami was a clerk at a boutique law firm where he worked on many trademark infringement cases in the Northern District of Illinois. He also successfully defended a defamation appeal in the United States Court of Appeals for the Seventh Circuit.
Mr. Talhami earned his J.D. from Loyola University Chicago where he was a member of the Intellectual Property Law Society and served as the Career and Admissions Chair for the First-Generation Law Student Society. Through Loyola's Mediation Certification and Courthouse Practicum, Mr. Talhami became a certified mediator with Chicago's Center for Conflict Resolution and mediated many small claims cases in Illinois state court.
Prior to law school, Mr. Talhami graduated from DePaul University with bachelor's degrees in philosophy and industrial-organizational psychology, as well as a master of science degree in general management.
Bar Memberships
Supreme Court of Illinois
United States District Court for the Northern District
Professional Associations and Memberships
Intellectual Property Law Association of Chicago
Illinois State Bar Association