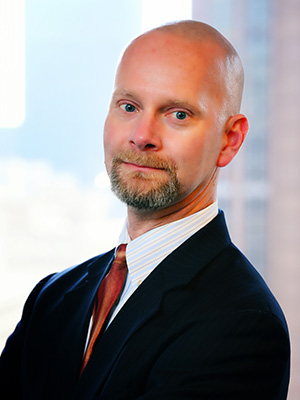 Steven P. Fallon is a shareholder with Greer, Burns & Crain in Chicago, and has been with the firm since it was founded in 1994.
Steve's practice and experience in intellectual property law ranges from advising on early stage technology through procurement, avoidance, end-stage licensing and enforcement of IP rights.
He has extensive experience in domestic and foreign patent and trademark prosecution and has enforced and defended patents, trademarks, trade dress, and trade secrets, including winning concessions, settlements and jury verdicts for GBC clients.
Steve has developed intellectual property programs for start-ups and universities and has protected later stage commercial products for small, medium and large companies. He has advised clients on right-to-use and clearance issues and has negotiated licenses, and conducted mediations and arbitrations. Steve has expert witness qualifications for U.S. patent prosecution procedures. Patents written by Steve have been licensed, enforced and sold.
Perspective gained through Steve's extensive and broad experiences in intellectual property law provides him a unique understanding of the strategic implications of decisions made at each stage of intellectual property evaluation, procurement and enforcement.
Steve obtained a seven figure intellectual property settlement on behalf of a GBC client and has successfully defended other GBC clients from seven figure damage claims in litigation. He has conducted many successful appeals to the Board of Patent Appeals and Interferences, has successfully conducted ex-parte and inter parte re-examination proceedings, and has won trademark appeals and trademark oppositions.
Steve received a J.D. with High Honors from Chicago-Kent College of Law in 1995 where he was a member of the Law Review, was a recipient of the Ramsey-Burke scholarship, and was admitted to the Order of the Coif. Prior to law school, Steve received a B.S. in Electrical Engineering in 1989 from Southern Illinois University.
Steve is a former patent examiner at the United States Patent and Trademark Office, having served in the image analysis art.
Steve has been active in the local and national IP legal community and is the past Chair of the Chicago Bar Association Patent, Trademark and Copyright Committee.
Steve has given seminars at Licensing Executive Society Meetings, at Universities and at Bar Associations on topics ranging from IP Basics for General Practitioners to the Non-Enacted Patent Reform Act of 2009 and the American Invents Act of 2011, and has provided instruction on drafting patent claims for the Patent Resources Group.
Experience
U.S. and foreign patent and trademark prosecution
University technology transfer and licensing
Patent appeals, US and foreign
Patent re-examinations and interferences
Trademark appeals, oppositions and interferences, US and foreign
First chair federal and state jury bench trials, Markman hearings, appeals, injunction hearings
Alternative dispute resolution, including mediation and arbitration
Trade Secret counseling and defense
Licensing
Trade Dress counseling, enforcement and defense
Infringement and validity opinions and evaluations
Bar Memberships
U. S. Patent and Trademark Office
Supreme Court of the State of Illinois
Trial Bar, U.S. District Court for the Northern District of Illinois
U.S. Court of Appeals for the Federal Circuit
Professional Associations
Chicago Bar Association
Intellectual Property Law Association of Chicago (IPLAC)
Association of University Technology Managers
Example Technical Fields
Biological and chemical sensors
Lighting and lighting control systems
Internet based business methods and software
Integrated circuit floor plan layout, design and evaluation
Microcavity plasma devices, displays and systems
Nuclear medicine