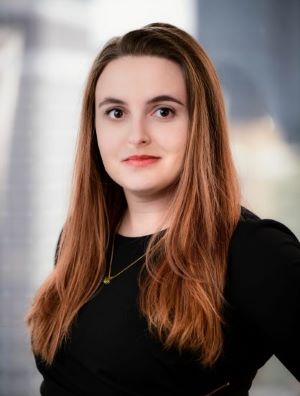 Rachel Miller is an attorney at Greer, Burns & Crain Ltd. in Chicago, with a concentration in trademark and copyright protection and dispute resolution, including anti-counterfeiting litigation.
Ms. Miller earned her J.D. at Loyola University Chicago. While still a student, she chaired several committees for the Intellectual Property Law Association of Chicago as well as served as one of the primary authors for two amicus curiae briefs filed with the United States Supreme Court. Concurrently, she was one of nine American law students on three teams who won placement at and competed in the 33rd Jean-Pictet International Human Rights Competition held in Denpasar, Indonesia.
During law school, Ms. Miller gained experience as a law clerk in all phases of copyright and trademark litigation and prosecution while working at a specialized boutique firm and a general business practice firm. Ms. Miller also received a CALI Excellence Award in Advanced Litigation Skills.
Currently, Ms. Miller strives to be an active figure in the Chicago intellectual property community. She continues to serve as chair and vice-chair on several Intellectual Property Law Association of Chicago committees and recently was the primary author on the Association's amicus curiae brief to the United Sates Supreme Court in Unicolors v. H&M Hennes & Mauritz.
Prior to attending law school, Ms. Miller earned her bachelor's degree in International and Area Studies and French from the University of Oklahoma. While a student at the University of Oklahoma, she worked in the innovative world of oil and gas on projects involving the leasing and purchasing of mineral rights.
Bar Memberships
Supreme Court of the State of Illinois
United States District Court for the Northern District of Illinois
Bar Associations
Intellectual property Law Association of Chicago

Mentoring Committee, Chair (2021-2022), Vice-Chair (2020-2021)
Young Members Committee, Vice-Chair (2018-present), Member (2017-2018)
Website Committee, Vice-Chair (2020-present)
Copyright Committee, Chair (2020-2021)
Amicus Committee, Member (2017-present)

International Trademark Association

Young Practitioners Committee, Member (2021-present)

Illinois State Bar Association

Law Student Liaison (2018-2020)