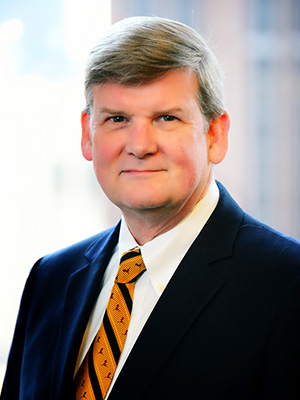 Paul G. Juettner is an intellectual property attorney with nearly four decades of experience in all aspects of trademark, patent and copyright protection and enforcement.  He is of counsel to Greer, Burns & Crain in Chicago.
Paul focuses his efforts primarily on international intellectual property portfolio creation and management, and he has consistently helped GBC clients grow their businesses and their IP portfolios domestically and internationally.
Paul's practice at GBC covers the full range of intellectual property legal services including registering, maintaining and protecting trademarks, domain names, designs, inventions and copyrightable works, worldwide; intellectual property due diligence studies and audits; license, joint development and other intellectual property agreements; opinions; trademark opposition and cancellation proceedings; internet enforcement actions; intellectual property litigation in the federal courts throughout the country; and alternative dispute resolution.
Paul began his career as a civil engineer with Harza Engineering, having earned a civil engineering degree from the University of Illinois.
In 1981, Paul was awarded a Juris Doctor degree with High Honors from the Chicago Kent College of Law. Later that year he was admitted to practice law in Illinois and became a registered Patent Attorney before the U.S. Patent and Trademark Office.
For 20 years Paul practiced all aspects of intellectual property law with his father, Thomas R. Juettner, at their firm Juettner, Pyle and Piontek, where Paul was the managing partner. In 2000 the Juettners joined GBC.
Paul is active in the Illinois Bar, IP law associations both in Chicago and internationally, and within the community.
He is an active member of the International Trademark Association where he serves on the INTA Panel of Trademark Mediators. Paul is also a member of the Intellectual Property Law Association of Chicago (Secretary 2003-2004 and Board of Managers 2001-2003) and the International Anti-Counterfeiting Coalition.
Paul served on the National Committee of St. Jude's Children Research Hospital, Memphis, Tennessee, 2009-2014.
He also co-chaired the Parish Council and building committee at St. Mary of the Woods parish in Chicago.
He is an avid fan of baseball, barbeque and blues music.
Experience
Intellectual property portfolio management, including trademark, design and patent prosecution worldwide
Due diligence reviews and intellectual property audits
Intellectual property license, acquisition, joint development, non-disclosure and other agreements
Patent and trademark infringement and validity opinions; patent design around studies
Anti-counterfeiting and online intellectual property enforcement
Trademark opposition and cancellation proceedings before the U.S. Patent and Trademark Office
Patent, design, trademark, copyright, trade secret and unfair competition litigation in the federal courts
Alternative dispute resolution, including mediation and arbitration
Bar Memberships
U.S. Court of Appeals for the Federal Circuit
U.S. Court of Appeals for the Seventh Circuit
U.S. District Court for the Northern District of Illinois, including Trial Bar
U.S. District Court for the Eastern and Western Districts of Wisconsin
U.S. District Court for Colorado
U.S. Patent and Trademark Office
Supreme Court of the State of Illinois
Example Technical Fields
Footwear Design and Technology
Apparel and Textiles
Pulp, Papermaking, Coating and Calendering
Containers and Packaging
Concrete Construction and Landscape Products
Civil Engineering Systems and Products
Filters and Evaporative Media