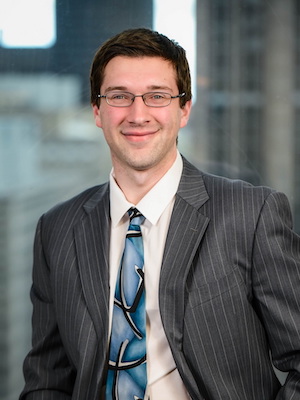 Paul Fina is a patent attorney for Greer, Burns & Crain in Chicago, Illinois. His legal practice encompasses all aspects of intellectual property law, with a focus on patent litigation and patent prosecution.
Mr. Fina received his J.D. (with honors) from DePaul University. During law school, he served on The DePaul Law Review and authored an article published by the DePaul Journal of Art, Technology and Intellectual Property Law.
Mr. Fina received CALI Excellence Awards in Trademarks, Practical Legal Research: Intellectual Property, Negotiations, IP Valuation in Technology, Health, and Other Industries. He also gained invaluable experiences serving as a patent research assistant and patent teaching assistant to Professor Joshua Sarnoff, and a law clerk assisting in patent prosecution and litigation.
Prior to law school, Mr. Fina earned a B.S. in Mechanical Engineering from University of Illinois Urbana Champaign. He also led a research team investigating aerodynamic enhancements for existing commuter trains.
Bar Memberships
United States Patent and Trademark Office
Supreme Court of the State of Illinois
Professional Associations and Memberships
Intellectual Property Law Association of Chicago
Chicago Bar Association
Example Technical Fields
Bicycle Accessories
Manufacturing
Hair Clippers and Trimmers
Medical Devices
Automotive Technology
Footwear
Humidifiers
Railway Maintenance Equipment
Power Transmission Devices
Wallboard Compositions and Manufacturing Techniques
Wallboard Finishing Tools
Water Purification Equipment and Procedures