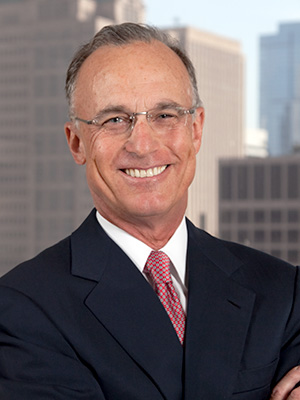 Patrick G. Burns is a founding shareholder at Greer, Burns & Crain in Chicago. The emphasis within his practice today is patent prosecution and opinions.
An accomplished intellectual property attorney in the United States, Mr. Burns has handled litigation involving a variety of intellectual property disputes in the Federal Circuit, Federal District Courts, and the International Trade Commission.
Mr. Burns is a prolific author and lecturer on intellectual property rights, and taught in a seminar for the Patent Resources Group entitled "'Designing Around' Valid U.S. Patents" for 25 years. All aspects of patent infringement are addressed in "'Designing Around' Valid U.S. Patents" including opinion preparation, claim interpretation, the doctrine of equivalents, the doctrine of prosecution history estoppel, legitimate design-around activities, and techniques for avoiding legitimate design-arounds.
Mr. Burns is active within the IP legal community. He served on the Advisory Board of BNA's Patent, Trademark & Copyright Journal. He is a past President of the Intellectual Property Law Association of Chicago, has served on its Board of Managers, and was Chairman of its Computer Technology Committee. In addition, Mr. Burns is a past Chairman of the Patent, Trademark and Copyright Committee of the Chicago Bar Association, and has been involved in bar association activities throughout his career.
Mr. Burns is an Adjunct Professor of Law at Chicago-Kent College of Law.  He received a Distinguished Alumni Award from the Chicago-Kent IP Law Society in 2009 and an Alumni of Distinction Award in 2013.
Rated AV Preeminent by Martindale-Hubbell since 1984, Mr. Burns was named an Illinois Super Lawyer by Law & Politics Magazine and a Leading Lawyer by the Chicago Law Bulletin.  Mr. Burns received a B.S. Degree in electrical engineering from the University of Illinois in Urbana in 1972 and a J.D. degree from Chicago-Kent College of Law in 1978.
Experience
Forty years of patent, trademark and copyright prosecution
Opinions on patent infringement, validity and enforceability
Patent, trademark, copyright and trade secret litigation in the State and Federal Courts, and in the International Trade Commission
Expert Witness in Federal Court Litigation
Professional Activities
Adjunct Professor, IIT/Chicago-Kent College of Law, 2006-2013; 2016-
Adjunct Professor, DePaul University College of Law, 2013-2014
Lecturer, Patent Resources Group, 1987-2019
Lecturer, U.S. Patent Practice, Japan Intellectual Property Association, 2001-2014
Judge, Saul Lefkowitz Moot Court Competition, sponsored by the International Trademark Association
Clinician in Fundamentals of Patent Prosecution Workshop: A Boot Camp for Claim Drafting and Amendment Writing (PLI)
Member of the Advisory Board of BNA's Patent, Trademark & Copyright Journal
President of the Intellectual Property Law Association of Chicago, 2009
Board of Managers of the Intellectual Property Law Association of Chicago, 1997
Chairman of the Patent, Trademark and Copyright Committee of the Chicago Bar Association, 1995
Awards
2013 Alumni of Distinction Award, IIT/Chicago-Kent College of Law
2009 Distinguished Alumni Award, Chicago-Kent IP Law Society
Named to Leading Lawyer's Network by Chicago Law Bulletin
Named an Illinois Super Lawyer by Law & Politics Magazine
Major Publications
Contributing author of Claim Construction in the Federal Circuit, published by Thomson West (2006-2008)
Contributing author of Electronics & Computer Patent & Copyright Practice, published by the Patent Resources Group
Contributing author of 'Designing Around' Valid U.S. Patents, published by the Patent Resources Group
Supreme Court Briefs
Counsel of Record for Amicus in Romag Fasteners, Inc, v, Fossil, Inc. et al., No. 18-1233 (Supreme Count of the United States) (2019)
Counsel of Record for The Intellectual Property Law Association of Chicago in Maersk Drilling USA, Inc. v. Transocean Offshore Deepwater Drilling, Inc., No. 13-43  (Supreme Court of the United States) (2006) DOWNLOAD .PDF
Counsel of Record for Amicus The Intellectual Property Law Association of Chicago in KSR Int'l. Co. v Telefelx et al., No. 04-1350; (Supreme Court of the United States) (2006) DOWNLOAD .PDF
Additional Publications and Speeches
October 17, 2019 IPLAC IP Law Symposium Moderator, Foreign Patents and Trademarks: Where, Advantages, Enforcement, and Value
January 4, 2019 USPTO Guidelines on Computer-Implemented Functional Claim Limitations for Compliance with Section 112:  How Much is Enough?, Japan Patent Attorney Association (JPAA), Tokyo, Japan (March 2019) DOWNLOAD .PDF
Patent Design Arounds: Minimizing the Risk of Infringement or Reducing the Likelihood of Design Arounds, Strafford (2016)
Tips for Drafting Claims Fully Covering Standards, Korea and Japan (2012-2013)
Ethics Violations in the U.S. Patent and Trademark Office Presented to the Bay Area In-house Med-Tech Association, Menlo Park, California (April 2013)
A Simpler Approach to Claim Construction, BNA's Patent, Trademark & Copyright Journal, 77 PTCJ 717 (April 2009)
In the Wake: The PTO Guidelines On KSR Landslide Vol. 1, No. 3; Publication of the ABA Section of Intellectual Property Law (January/February 2009)
Effective Patent Prosecution Techniques: Drafting and Amending Patent Claims In Preparation for Litigation, 1st Annual Intellectual Property Institute, IICLE, Chicago, Illinois (2008) DOWNLOAD .PDF 
In Re: Bilski Chicago-Kent College of Law, Chicago, Illinois (September 2008) DOWNLOAD .PDF 
Changes for The Patent Prosecutor: The Guidelines On KSR And Recent Trends In The Written Description And Enablement Requirements, 52nd Annual Intellectual Property Law Conference, The John Marshall Law School, Chicago, Illinois (2008)
Drafting Instructions For U.S. Counsel Chicago, Illinois (2007)
Understanding Patent Infringement Opinions And The Scope Of Patent Protection, IP Seminar of Tai E International Patent & Law Office, Taiwan (November 2006) DOWNLOAD .PDF
Examination Guidelines for Determining Obviousness under 35 U.S.C. Section 103 in view of the Supreme Court decision in KSR International Co. v. Teleflex Inc. (2007)
Willfulness in Patent Litigation, Intellectual Property Law Association of Chicago – The John Marshall Law School (April 2007)
The Pros And Cons Of Using Means Plus Function Language In U.S. Patent Claims (January 2006) DOWNLOAD .PDF
Claim Construction After Phillips (January 2006) DOWNLOAD .PDF
Recent Developments in U.S. And Japan Patent Law, Japan (March 2005) DOWNLOAD .PDF
What Controls Claim Interpretation, the Dictionary or the Specification? Japan (November 2003)
Advising Clients on Designing Around in Today's Ever-Changing World, 40th Annual Program on Intellectual Property Law, The Center for American and International Law, Dallas, Texas (November 2002)
Applying Prosecution History Estoppel after the Supreme Court's Decision in Festo, Chicago Bar Association, (June 2002)
Non-Infringement and Invalidity Opinions, Greer, Burns & Crain, Ltd., In-house Seminar (February 2002) DOWNLOAD .PDF
Simplifying / Clarifying the Equivalents Analysis Through Legislation, Colorado Bar Association (2000) DOWNLOAD .PDF
The Scope of Protection for Software, Japan (November/December 1999)
Drafting Better Specifications and Claims in Light of Recent Federal Circuit Decisions, Japan (November 1999)
Preparing U.S. Software Patent Applications for Later Filing in Foreign Countries, Intellectual Property Law Association of Chicago, The John Marshall Law School, Chicago, Illinois (May 1999)
When Can No Reasonable Jury Find Patent Infringement under the Doctrine Of Equivalents?, AIPPI, Japan (1999) DOWNLOAD .PDF
Translating and Understanding Patentability Opinions, LES Annual Meeting, Miami, Florida (1998) DOWNLOAD .PDF
The Importance of Defining the Inventive Concept in U.S. Patent Claims, Japan (October 1997)
How to Obtain Broad Patent Protection in View of Most Recent CAFC Decisions, 41st Annual Conference on Developments in Intellectual Property Law, The John Marshall Law School, Chicago, Illinois (February 1997)
Patent Infringement and Patent Prosecution in the U.S., AIPPI, Japan (February 1996)
Broader Protection for Process Patent Owners Can Create Problems For The Unwary, Welsh & Katz, Chicago, Illinois, Newsletter Vol. 5, No. 1 (1988-1989)
Bar Memberships
U.S. Patent and Trademark Office
Supreme Court of the State of Illinois
U.S. District Court for the Northern District of Illinois
U.S. Federal Circuit Court of Appeals
U.S. Seventh Circuit Court of Appeals
U.S. Fourth Circuit Court of Appeals
U.S. Supreme Court
Example Technical Fields
Computer Systems and Circuits
Construction Tools
Electric Hair Trimmers and Attachments
Home Appliances
Liquid Crystal Displays
Luggage
Magnetic and Optical Disk Drives
Machine Tools
Nuclear Waste Disposal Systems
Piezoelectric Devices
Plasma Display Devices
Polymer Activation Systems for Waste Water Treatment
Semiconductor Devices
Solar Energy Systems
Telecommunication Systems