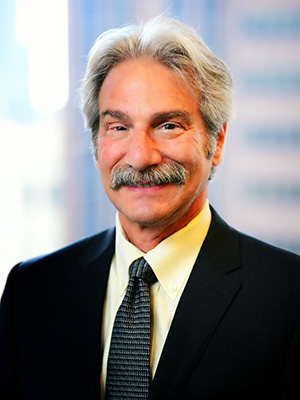 Lawrence Crain is a founding shareholder at Greer, Burns & Crain in Chicago, and is an attorney with unusually extensive experience counseling clients on the most efficient strategies and techniques for protecting their intellectual property.
Larry assists GBC clients in obtaining patents — including provisional, non-provisional, design and utility — in the United States, as well as countries throughout the world. He also advises clients on all aspects of trademark law including word marks, designs or logos, and composite marks.
In more than 25 years practicing intellectual property law, Larry has obtained over 400 U.S. patents, and many more foreign counterparts.
GBC clients with international intellectual property portfolios and business interests benefit from the close contacts Larry has developed with patent and trademark associates around the world who provide GBC-style personal service.
Among Larry's international recognitions is his appointment as Queen's Counsel by the Government of Canada.
GBC clients asserting or defending intellectual property infringement allegations have consistently benefited from Larry's experience in negotiation, licensing, and when necessary, litigation.
Larry's achievements in IP law are exemplified by his repeated designation as Illinois Super Lawyer; his role as a Founding Member of the Richard Linn Inn of Court; and as a long-time Member of the Board of the Center For Intellectual Property Law and Information Technology at DePaul University College of Law.
Larry was holds a B.S. in Biology and an M.S. in Entomology from the University of Illinois-Urbana, and a J.D. from Loyola University of Chicago School of Law.
Experience
Worldwide patent prosecution
Worldwide trademark prosecution
Patent, trademark, copyright, and unfair competition litigation
Opinions on patent infringement, validity and enforceability
Licensing
Lecturer at John Marshall Law School, Chicago Bar Association
Appointed Queen's Counsel by the Government of Canada
Named an Illinois Super Lawyer by Law & Politics Magazine
Founding Member, Richard Linn Inn of Court
Member of the Board, The Center For Intellectual Property Law And Information Technology (CIPLIT), DePaul University College Of Law
Bar Memberships
U.S. Patent and Trademark Office
Supreme Court of the State of Illinois
Supreme Court of the State of Wisconsin
Trial Bar of the U.S. District Court for the Northern District of Illinois
U.S. District Court, Eastern District of Wisconsin
U.S. Court of Appeals for the Federal Circuit
Example Technical Fields
Barbecues
Bicycle Accessories
Biological Specimen Testing Technology
Compressors
Container Closures
Coronary Catheters
Diving Equipment
Document Reproduction and Handling Equipment
Fasteners
Firearms
Hair Clippers and Trimmers
Hair Dryers
Heat Exchangers
Holograms
Insect Traps
Locomotives
Metal Alloys
Mining Equipment
Nutraceuticals
Outboard Marine Engines
Outboard Heaters
Packaging Equipment and Packaging
Power Tools
Power Transmission Devices
Railway Maintenance Equipment
Respiratory Therapy Devices
Solar Energy Technology
Sterling Engines
Turf Care Equipment
Wallboard Compositions and Manufacturing Techniques
Wallboard Finishing Tools
Water Purification Equipment and Procedures