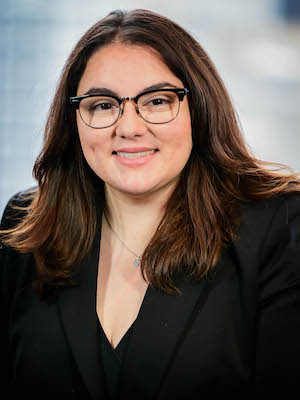 Kahlia Halpern is an attorney at Greer, Burns & Crain Ltd.'s Chicago office. Her practice focuses on trademark and copyright protection and is a member of GBC's anti-counterfeiting and online trademark enforcement team. Ms. Halpern has experience in global trademark prosecution as well as with proceedings before the U.S. Trademark Trial and Appeal Board and domain disputes before the World Intellectual Property Organization.
Ms. Halpern earned her J.D. at DePaul University College of Law and received her CIPP/US certification. During law school, she published in the Journal of Art, Technology, and Intellectual Property and gained her intellectual property experience as a law clerk at a specialized boutique firm dedicated to trademark, copyright, and internet law where she was involved in all phases of intellectual property litigation, prosecution, and transactional matters. She also held legal internship positions with the Field Museum of Natural History in Chicago and the Holocaust Art Restitution Project in New York, focusing on trademark and copyright protection and data privacy. Ms. Halpern also received CALI Excellence Awards in Copyright Law and Art and Cultural Heritage Law.
Prior to joining Greer, Burns & Crain Ltd., Ms. Halpern's practice focused on global brand protection and domain enforcement, including worldwide trademark litigation and prosecution, UDRP spoofing and cybersquatting disputes, and business branding strategy. Currently, Ms. Halpern serves on the Board of Managers for The Decalogue Society of Lawyers, the Associate Board of the Lawyers for the Creative Arts as well as a committee member for Chicago Women in IP and INTA's Unreal Campaign which educates young consumers of the dangers of counterfeit products.
Bar Memberships
Supreme Court of the State of Illinois
United States District Court for the Northern District of Illinois
Professional Associations and Memberships
The Decalogue Society of Lawyers

Board of Managers (2020-Present)
Women's Committee Chair (2022-Present)

International Trademark Association (INTA)

Unreal Campaign (2021-Present)

Lawyers for the Creative Arts

Associate Board (2021-Present)

Education Committee Member (2021-Present)

Chicago Women in IP

Social Committee (2021-Present)

Chicago Bar Association (CBA)
Publications
Kahlia Halpern, Rockwell v. Trustees of the Berkshire Museum No. 1776CV00253, 2017 WL 6940932 (Mass. Sup. Ct. Nov. 7, 2017), 29 DePaul J. Art, Tech. & Intell. Prop. L. 125 (2019)
Available at: https://via.library.depaul.edu/jatip/vol29/iss1/5