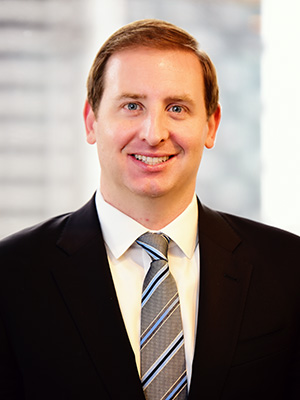 Justin Gaudio is a shareholder with Greer, Burns & Crain in Chicago. His legal practice encompasses all aspects of intellectual property law, with significant experience and emphasis on online trademark enforcement and technology law.
Mr. Gaudio regularly handles matters related to developing and implementing programs to combat online counterfeiting and infringement.  His technical background has enabled GBC to develop effective and efficient online enforcement solutions.  As a result, GBC has seized hundreds of thousands of counterfeit domains and millions of dollars in assets.
As a result of his responsibilities related to GBC's online brand protection efforts, Mr. Gaudio is highly experienced in all types of internet website and domain name disputes.
He has represented clients in numerous counterfeiting, trademark infringement and Anti-Cybersquatting Consumer Protection Act (ACPA) litigation in U.S. Federal Courts that have resulted in multimillion dollar judgments against infringers and thousands of domains names being transferred to clients.  He has also handled domain name dispute arbitration actions in jurisdictions around the world (UDRP, Nominet, and others). Mr. Gaudio also has significant IP enforcement experience removing infringing content from Internet search engines and social media networks.
Mr. Gaudio has worked numerous times with law enforcement and customs authorities internationally to protect GBC clients' brands. His efforts overseeing hundreds of investigations and raids in the Unites States, China, and Europe have resulted in the seizure of hundreds of thousands of counterfeit products.
Mr. Gaudio's experience with patents includes litigation, drafting and prosecuting patent applications as well as preparing opinions on infringement, invalidity, and due diligence.
Mr. Gaudio received his law degree from DePaul University. Prior to law school he was awarded a Bachelor of Science in Computer Engineering and minor in Mathematics from the University of Cincinnati.
Prior to joining GBC Mr. Gaudio worked at General Electric Aircraft Engines as an Engineering co-op and a law firm specializing in aviation related litigation.
Example Representative Matters
Tommy Hilfiger Licensing, LLC, et al., v. Miuter.com, 20-cv-6508 (N.D. Ill. Aug. 17, 2021) (summary judgment awarding $150,000 in statutory damages and finding that "[t]he undisputed facts, even viewed in the light favorable to defendant, establish a reckless disregard for plaintiffs' trademark rights and that is enough to establish willful infringement.")
Volkswagen AG, et al. v. IMAN36r5-USA., 18-cv-6611 (N.D. Ill. Feb 28, 2020) (summary judgment granted for offer for sale of counterfeit Audi logo light and awarding $75,000);
Entertainment One UK Ltd. v. 2012shiliang, et al., 2019 U.S. Dist. LEXIS 74157 (N.D. Ill. May 2, 2019) (summary judgment granted for using Peppa Pig in item title and awarding $100,000 for two represented sales);
Volkswagen AG, et al. v. hkseller*2011, et al., 18-cv-7621 (N.D. Ill. May 6, 2019) (summary judgment granted for offer for sale of counterfeit Audi logo light and awarding $200,000);
H-D U.S.A., LLC v. Guangzhou Tomas Crafts Co., et al., 2017 U.S. Dist. LEXIS 207613 (N.D. Ill. Dec. 18, 2017) (declining to reduce asset restraint, entering summary judgment and awarding $150,000 in statutory damages, noting "the fact that defendant's counterfeiting took place online favors a higher statutory damages award because online counterfeiting can reach a much wider audience than counterfeiting through a physical store.");
NBA Properties, Inc., et al. v. Yan Zhou, et al., 2017 U.S. Dist. LEXIS 148971 (N.D. Ill. Sept. 14, 2017) (awarding $150,000 in statutory damages, finding unpersuasive defendant's claim that they were "unfamiliar with Plaintiffs' trademarks, that they never physically handled the counterfeit merchandise, and that they only made minimal sales.");
Luxottica USA LLC v. The Partnerships, et al., 2017 U.S. Dist. LEXIS 29999 (N.D. Ill. Mar. 2, 2017) (summary judgment and awarding $100,000 in statutory damages "because [defendant] advertised [counterfeit goods] on the internet, allowing for distribution far greater than if it sold the hats in a brick-and-mortar store.");
Luxottica Group S.p.A. v. Hao Li, et al. and Richemont International SA, et al. v. Luo Liang, et al., 2017 U.S. Dist. LEXIS 21818 (N.D. Ill. Feb. 15, 2017) (summary judgment and awarding $120,000 in statutory damages and attorney fees for use of WAYFARER in item title and offering to sell earrings bearing a counterfeit VCA Alhambra trademark);
River Light V, L.P. and Tory Burch LLC v. Zhangyali, et al., 2016 U.S. Dist. LEXIS 111301 (N.D. Ill. Aug. 22, 2016) (summary judgment and awarding $100,000 for one infringed mark and finding that defendant acted with "reckless indifference to the trademark owner's rights" by failing to perform due diligence of its product listings);
Monster Energy Company v. Chen Wensheng, et al., 15-cv-4166 (N.D. Ill. June 30, 2016) (Docket Entry No. 137) (summary judgment and awarding $1 million in statutory damages despite zero represented sales);
Bulgari, S.p.A. v. Zou Xiaohong, et al., 2015 U.S. Dist. LEXIS 140606, at *7 (N.D. Ill. Oct. 15, 2015) (summary judgment and awarding $100,000 for three represented sales);
Luxottica USA LLC v. The Partnerships, et al., 2015 U.S. Dist. LEXIS 78961, at *7-10 (N.D. Ill. June 18, 2015) (summary judgment and awarding $150,000 for three infringed marks, holding that even though there was no evidence submitted that defendant was a "large-scale counterfeiter," defendant's online sale of counterfeit goods made plaintiff's actual losses difficult to calculate and justified a substantial award);
Deckers Outdoor Corp. v. Does 1-100; 12-cv-9120 (N.D. Ill. 2012) ($200 million judgment entered against Defendants, permanent transfer of more than 1,500 domain names, and a substantial amount in linked PayPal accounts frozen and transferred in partial satisfaction of the judgment.)
Publications & Lectures
Panelist, "A Brand's New World" conference on brand protection, A-CAPP at MSU, November 2020
Presenter, "Practical Aspects of Handling Counterfeiting Cases," John Marshall Law School Annual IP Conference, February 2015
Quoted, "Counterfeiters Targeting Social Media with Fake Goods," ABC 7 Chicago, December 2014
Presenter, "Online Counterfeiting Enforcement," Canadian Antifraud Centre International Mass Marketing Fraud Conference, February 2014
Presenter, "Civil Litigation and Counterfeiting," Underwriters Labratory Anticounterfeiting Conference, June 2013
Presenter, "Top Issues In Anti-Counterfeiting Law," IPLAC IP Law Symposium, November 2, 2012
Panelist, "Effective, Efficient…Enforcement Against Counterfeit Websites," IACC Fall 2012 Conference
Quoted, "Counterfeit Battles Heat Up On Web," The National Law Journal, June 11, 2012
Presenter, "Online Branding Scams," Intellectual Property Law Association of Chicago (IPLAC) Event, April 17, 2012
Presenter, "Recent Developments in IP and Internet Law," Greer, Burns & Crain CLE Event, April 16, 20111
Memberships & Affiliations
International Trademark Association (INTA) – Anticounterfeiting Committee (2014-2018), Legislative Committee (2019-2023)
International AntiCounterfeiting Coalition (IACC)
Intellectual Property Law Association of Chicago (IPLAC) – Internet and Advertising Committee Chair 2012 – 2013
Experience
Patent Litigation
US and Foreign Patent Prosecution
Opinions on Patent Infringement, Validity and Enforceability
Client counseling for Licensing and Portfolio Development
Trademark and Trade Dress Litigation
US and Foreign Trademark Registration
Opinions on Trademark Infringement, Validity and Enforceability
Trademark Opposition and Cancellation Proceedings
Worldwide Brand Protection Counseling for Combating Domestic and Off-Shore Infringers and Counterfeiters
Internet Copyright and Trademark Enforcement including Removal of Infringing Links from Search Engines and Counterfeit Website Shut Downs
Domain Name Acquisition, Protection and Disputes including Uniform Domain
Name Dispute Resolution (UDRP) Actions
Digital Millennium Copyright Act (DMCA) Take Down Notice Drafting and Defense
Anti-Cybersquatting Consumer Protection Act (ACPA) Litigation
Bar Memberships
U.S. Patent and Trademark Office
Supreme Court of the State of Illinois
U.S. District Court for the Northern District of Illinois
U.S. Federal Circuit Court of Appeals
U.S. Seventh Circuit Court of Appeals