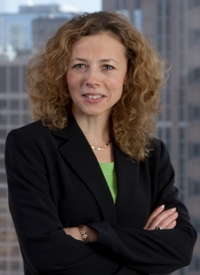 Dr. Kate Berezutskaya is a partner at Greer, Burns & Crain in Chicago.  Her legal practice includes all aspects of intellectual property law, with significant experience and emphasis on securing and protecting patent rights.  Dr. Berezutskaya regularly works with clients to develop and implement global intellectual property (IP) strategies skillfully tailored to business goals.  She is a licensed US patent attorney, regularly prepares US and PCT patent applications and has been successfully representing clients in connection with numerous patent applications before the United States Patent and Trademark Office (USPTO).  Dr. Berezutskaya has significant experience in advising clients on validity and freedom-to-operate opinions.  She also regularly consults clients in connection with patent due diligence analysis, patentability analysis, infringement analysis, license and patent assignment agreements, IP assets transfer agreements, IP ownership rights and joint research & development agreements.  Other aspects of Dr. Berezutskaya's practice include patent litigation, trade secrets, trademarks and copyrights.  As an adjunct professor at Chicago-Kent College of Law, Dr. Berezutskaya has taught patent law.
Dr. Berezutskaya received her J.D. from Chicago-Kent College of Law where she graduated with a certificate in Intellectual Property Law.  Prior to law school, Dr. Berezutskaya conducted research at the University of Chicago and earned a Ph.D. in molecular biology/biochemistry from the University of Illinois at Chicago and a master's degree in biology/virology from Moscow State University.
Prior to joining GBC, Dr. Berezutskaya practiced law at a large international law firm, conducted biomedical research, consulted at the University of Chicago technology transfer office and taught science classes to students at the University of Illinois at Chicago.
Experience
US and Foreign Patent Prosecution, including appeals and re-examination proceedings before the US PTO
Opinions on Patent Infringement, Due Diligence, Validity, Enforceability, Freedom-to Operate, Inventorship
Client Counseling in Connection with IP Portfolio Development, Licensing, Patent Acquisition, Technology Transfer, IP Assets Liquidation in Bankruptcy
Patent Litigation
Re-examination, Post-Grant Review Proceedings
US Trademark Registration
Internet Copyright Enforcement
Professional Associations
Intellectual Property Law Association of Chicago (IPLAC) – Biotechnology Committee, Chair
Licensing Executives Society International (LESI), Life Sciences Committee, Past-Chair
Licensing Executives Society (LES), Past-Chair for Chicago Chapter
Publications, Presentations & Lectures
"Connecting life sciences IP to business development," Licensing Executives Society Annual Meeting, October 15, 2018
"Is it all in our nature?" les Nouvelles (Journal of the Licensing Executives Society International) (2016) Volume LI, No. 2, pp 107-108
"Wait a minute. . . I thought that patent was mine."  Licensing Executives Society Annual Meeting, October 15, 2012
Guest Speaker, "Intellectual Property (IP) Assets," Loyola Law School, February 28, 2012
Guest Speaker, "IP Competitive Strategies," University of Illinois at Chicago, July 20, 2010
Bar Memberships
U.S. Patent and Trademark Office
Supreme Court of the State of Illinois
U.S. District Court for the Northern District of Illinois
U.S. Supreme Court
Example Technical Fields
Biotechnology
Pharmaceuticals
Chemical compositions and methods
Chemical processes
Compounds
Formulations
Antibodies
Proteins
Peptides
Oligonucleotides
Biomarkers
Recombinant cells, including stem sell technologies
Viruses and vaccines
Vectors
Small molecules and drugs
Cancer drugs
Treatments for hereditary and immunological disorders
Diagnostic tools and reagents
Food supplements
Cosmetic preparations
Methods of treatment and diagnostics
Research reagents
Medical devices
Surgical procedures
Green technologies