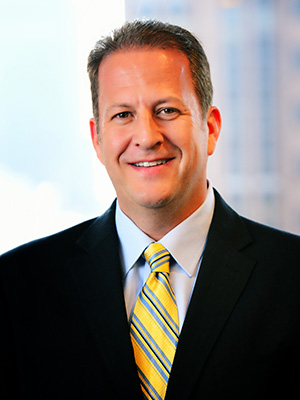 Christopher Hermanson is a partner with Greer, Burns & Crain in Chicago. His IP practice is concentrated on patent and trademark law.
Mr. Hermanson is registered to practice before the U.S. Patent and Trademark Office and has extensive patent prosecution experience in mechanical, electro-mechanical, business method, communication and internet related technologies across a variety industries
He has drafted complex intellectual property agreements and licenses, and has conducted patent infringement and product clearance studies.
Mr. Hermanson has structured transactions involving the sale and transfer of intellectual property, and uses his vast experience in intellectual property law to manage global intellectual property portfolios for a variety of companies.
Mr. Hermanson also handles intellectual property enforcement matters including patent infringement, trademark infringement and foreign and domestic trademark opposition proceedings, and has drafted appeal briefs for the Court of Appeals for the Federal Circuit. Mr. Hermanson received his J.D. from Chicago-Kent College of Law.
Prior to receiving his law degree, Mr. Hermanson was awarded a Mechanical Engineering degree from the University of Illinois and worked as a senior engineer with URS Greiner where he evaluated industrial facilities for compliance with environmental regulations.
His team re-designed and modified plant processes to meet environmental standards and decrease operating costs. He also developed and implemented compliance programs, negotiated regulatory and permit conditions with the Environmental Protection Agency (EPA) and prepared regulatory documents for submission to the EPA.
Mr. Hermanson is active in the Chicago intellectual property legal community. He has been a member of the Intellectual Property Law Association of Chicago since 1999 and has served on its U.S. Patent Committee as Chairperson and Vice Chairperson.
He is also active in the community as a volunteer at the Big Brother / Big Sister Program of DuPage County; a volunteer at the Cystic-Fibrosis Foundation of Chicago; a volunteer at the Leukemia & Lymphoma Society of Illinois; and as a Manager and Coach in the Glen Ellyn Youth Baseball and Softball programs.
Experience
U.S. Patent Prosecution
U.S. Trademark Prosecution
Litigation
Patentability and Clearance Opinions
Patent License Agreements
Patent Sale Agreements
Publications
Author, "Supreme Court Weighs in on Key Patent Standard", IPLAC Intellectual Property Report, Spring 2007
Professional Activities
Intellectual Property Law Association of Chicago Member (1999 – Present)
U.S. Patent Committee Chairperson (May 2007 – May 2008)
U.S. Patent Committee Vice Chairperson (May 2005 – May 2006)
Membership Committee Chairperson (May 2003 – May 2005)
Civic and Charitable Activities
Big Brother/Big Sister Program, DuPage County, Illinois
Cystic-Fibrosis Foundation Volunteer, Chicago, Illinois
Leukemia & Lymphoma Society Volunteer, Illinois
Glen Ellyn Youth Baseball Manager / Coach, Glen Ellyn, Illinois
Bar Memberships
U.S. Patent and Trademark Office
Supreme Court of the State of Illinois
U.S. District Court for the Northern District of Illinois
Example Technical Fields
Manufacturing
Computer Software and Data
Consumer Goods
Power Tools
Medical Devices
Financial Services
Building Materials
Fuel Cell Systems
Industrial Valves
Laser and Scanning Technology
Product Packaging
Printing Technology
Coating Systems
Coated Materials
Communication Systems
Fluid Flow Metering Systems
Lighting Systems