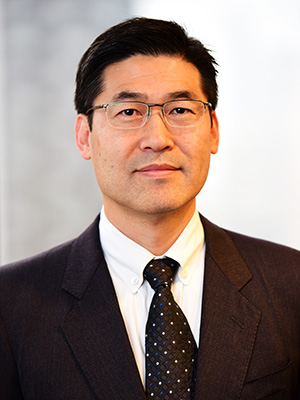 B. Joe Kim is a partner with Greer, Burns & Crain in Chicago. His practice focuses on intellectual property law, particularly domestic and foreign patent and trademark prosecution. Mr. Kim has prosecuted hundreds of U.S. and foreign patents in technical areas such as computer disk devices, LCD panels, computer network devices and software, pneumatic tires and power tools.
He has extensive experience writing opinions on patent infringement, validity and patentability, and trademark infringement, and has negotiated substantial settlements relating to patents and trademarks. Mr. Kim has litigated a variety of intellectual property disputes in the federal district courts, and has conducted many successful appeals to the Board of Patent Appeals and Interferences.
Mr. Kim received a J.D. from Chicago-Kent College of Law and a B.S. in Electrical Engineering from the University of Illinois at Urbana-Champaign.
Prior to attending law school, Mr. Kim worked as an electrical engineer in the nuclear power industry, and served in the U.S. Army before attending college.
Experience
U.S. and foreign patent and trademark prosecution
Patent appeals
Opinions on patent infringement, validity and patentability
Trademark oppositions
Patent and trademark litigation
Engineer with a nuclear power plant consulting firm
U.S. Army
Bar Memberships
U.S. Patent and Trademark Office
Supreme Court of the State of Illinois
U.S. District Court for the Northern District of Illinois
U.S. Court of Appeals for the Federal Circuit
Professional Affiliations
Intellectual Property Law Association of Chicago (IPLAC)
American Intellectual Property Law Association
Example Technical Fields
Coffee Roasters
Computer Disk Storage Devices
Computer Peripheral Server Devices
Computer System and Circuits
Control Network Protocols
Counter-Top Electric Ovens
Diving Equipment
Electric Motors
Electronic Information Delivery Systems and Devices
Fasteners
Hats
High Voltage Capacitors
HVAC Control Systems
LCD Panels
Magnetic Disk Drives
Matrix Isolation Analysis Equipment
Network Devices
Optical Disk Drives
Personal Care Appliances
Power Supply for Power Tools
Railway Maintenance Equipment
Rotary Power Tools
Semiconductor Devices
Software for Internet and Mobile Devices
Telecommunications Systems and Devices
TFT Devices
TV Monitoring Devices
Lectures
USPTO Programs for Expediting Patent Prosecution
Prosecution Strategies Based on Inner Workings of USPTO
Designing Around Exercise
When Is a Software Claim NOT Directed to an Abstract Idea?
Avoiding Means-Plus-Function Interpretation
Post Alice Survey and Practice Tips
2015 Updates on Alice Abstract Idea Exception and Analysis of Application Allowance Rates
Understanding Restriction and Election of Species Requirements
Responding to Alice Abstract Idea Rejections
Strategies for Responding to Office Action Rejections from the USPTO
Understanding Patent Infringement Opinions
False Patent Marking