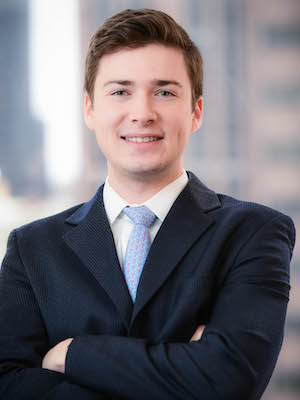 Andrew Burnham is an attorney for Greer, Burns & Crain in the Chicago, Illinois office. His legal practice encompasses all aspects of intellectual property law, with a focus on patent prosecution, litigation, and anti-counterfeiting.
Mr. Burnham received his J.D. from DePaul University. During law school, Mr. Burnham received CALI Excellence Awards in both Patent Law and Legal Analysis, Research, and Communication.  At Depaul, he also received the Scandaglia & Ryan Excellence Award as the top intellectual property writer in his class.  Mr. Burnham gained valuable experience working on patent infringement cases for the Honorable Judge John Lee at the United States District Court for the Northern District of Illinois.  He also worked as a law clerk at Greer, Burns & Crain throughout his time at DePaul.
Before law school, Mr. Burnham earned a B.S. in Mechanical Engineering from Purdue University. During his time at Purdue, he spent a summer as an engineer at start-up medical device company.  Mr. Burnham also worked in the manufacturing division of large company, designing robotics and other automated manufacturing devices.  After graduating from Purdue, Mr. Burnham worked as a Patent Research Analyst, where he prepared the International Search Report and drafted the Written Opinion of the International Searching Authority for Patent Cooperation Treaty (PCT) patent applications.
Bar Memberships
Supreme Court of the State of Illinois (pending)
United States District Court for the Northern District of Illinois (pending)
Professional Associations and Memberships
Intellectual Property Law Association of Chicago
Chicago Bar Association