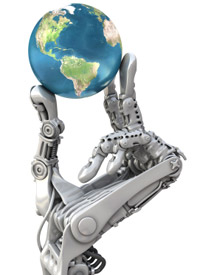 We maintain close relationships with like-minded patent practitioners in all of the major filing countries. These relationships allow us to provide answers to most questions relating to foreign patent protection within 24-hours of receiving the request, and to provide our clients with quality foreign patent protection at the same type of competitive pricing available from GBC.
Worldwide Intellectual Property Protection
---
In a global economy based upon instantaneous communication, securing intellectual property protection worldwide has never been more important.

Our firm is widely recognized for its ability to secure, defend and exploit IP rights worldwide.


Whether advising a large multinational enterprise, a small start-up, university technology transfer office or individual inventor, our international IP attorneys understand that securing international IP protection and IP portfolio development and maintenance is central to preserving and enhancing the value of our clients' IP portfolios.


GBC's international practice assists United States-based businesses, universities and individual inventors secure meaningful IP rights in foreign countries.


Securing international IP rights usually begins at home: for United States-based companies, universities and inventors, the first step almost always filing for United States patent, trademark or copyright protection.


Following application for intellectual property rights in the United States, further international filings are made under the Patent Cooperation Treaty (PCT) and the Paris Convention. When work is required in foreign countries, GBC works with a network of like-minded, value-oriented and experienced colleagues in foreign countries to implement our clients' foreign protection.


Beyond filing and prosecution of international patent and other international IP rights, GBC is expert at providing a full suite of legal services that enable strategic global management of intellectual property portfolios.


GBC bases its international practice not only on our comprehensive understanding of the intricacies of international IP law, but on a thorough understanding of our clients business plans and goals — and how the intersection of international IP law and technology can lead to profitability.


We invite you to contact any of our partners to discuss how GBC can help you secure, defend and financially exploit your international intellectual property rights.