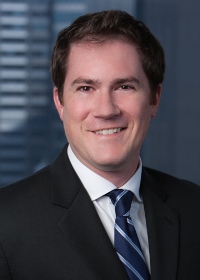 EDUCATION:
B.S., Chemistry
Creighton University
J.D., Creighton University
LL.M. in Intellectual Property Law, with Honors,
The John Marshall Law School
Patrick J. Smith
---
Patrick J. Smith is a patent attorney at Greer, Burns & Crain in Chicago.  As a former analytical chemist, Mr. Smith's legal practice at GBC focuses primarily on U.S. and international patent preparation and prosecution with a concentration in the fields of chemistry and chemical engineering.  While his undergraduate degree is in chemistry, Mr. Smith has significant experience in preparation and prosecution of patent applications for additional technological fields, for example, negative pressure wound bandages, catheters, artificial grass systems, dental equipment, x-ray devices, and automotive conveyance systems, to name a few.   Mr. Smith's intellectual property legal experience also involves all aspects of intellectual property enforcement and litigation.  He works regularly with clients to implement strategies for patent procurement and enforcement.  Mr. Smith also has significant experience with due diligence and opinion work regarding patentability, freedom-to-operate, infringement, and patent validity.
Mr. Smith received his J.D. from Creighton University School of Law in 2004.  Prior to law school, he was awarded a B.S. (Chemistry) from Creighton University in 2001.  He also worked as an Analytical Chemist for the Army Corp of Engineers.  Mr. Smith was awarded an LL.M. in Intellectual Property (with honors) from The John Marshall Law School in 2005.
Experience
U.S. and Foreign Patent Prosecution
Opinions on Patent Infringement, Validity, and Enforceability
Patent Litigation
U.S. Trademark Prosecution
Trademark Litigation
Trade Secret Litigation
Bar Memberships
U.S. Patent and Trademark Office
Supreme Court of the State of Illinois
United States District Court for the Northern District of Illinois
United States District Court for the Northern District of Florida
United States District Court for the Eastern District of Michigan (filing only)
Example Technical Fields
Inks
Oxygen Activated Heaters
Battery Cells
Carbon Dioxide Discharge Devices
Detergents
Bleaches
Catalysts
Syntactic Foams
Paper & Paper Coatings
Chemical Compositions
Chemical Coatings
Chemical Processes
Product Packaging
Negative Pressure Wound Therapy Devices
Fastener Assemblies
Hand and Power Tools
Artificial Grass Systems