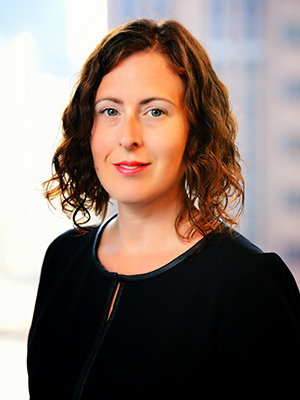 Laura R. Wanek is a partner with Greer, Burns & Crain in Chicago. Laura's legal practice is devoted to intellectual property counseling related to both patents and trademarks.
Laura has experience with patent prosecution in the U.S. and worldwide, and has managed patent portfolios of both large and small GBC clients. Her experience encompasses drafting and prosecuting patent applications in various mechanical areas, as well as preparing opinions on infringement, invalidity, and due diligence.
Laura has prosecuted patents and provided IP counseling to GBC clients in a diverse range of technical areas, including footwear and apparel, heavy duty vehicles, wallboard manufacturing, power tools, railway maintenance equipment, and preformed building panels.
From creation to enforcement, Laura has substantial experience with the management of trademark portfolios. She counsels GBC clients regarding trademark prosecution, handles proceedings before the U.S. Trademark Trial and Appeal Board, and manages opposition and cancellation proceedings before various trademark tribunals worldwide. Her responsibilities at GBC include managing the trademark portfolios of several well-known international marks.
Laura received her J.D. from DePaul University College of Law. Prior to attending law school she received a Bachelor of Science in Civil-Environmental Engineering from the University of Wisconsin-Madison, and subsequently conducted flood analyses and inspected dams for the Wisconsin Department of Natural Resources.
Laura has been involved in various professional societies and has served on the Board of Managers for the Intellectual Property Association of Chicago (IPLAC), as well as chaired the Women in Intellectual Property Committee of IPLAC.
She has been recognized in Chicago Lawyers Magazine for her work in the field of intellectual property and was honored as a "Rising Star" by the Illinois Super Lawyers.
Experience
U.S. and Foreign Patent Prosecution
Opinions on Patent Infringement, Validity, and Enforceability
U.S. and Foreign Trademark Prosecution
Trademark Opposition and Cancellation Proceedings
Bar Memberships
United States Patent and Trademark Office
Supreme Court of the State of Illinois
United States District Court for the Northern District of Illinois
Professional Affiliations
Intellectual Property Law Association of Chicago (previous member of the Board of Managers, Chair and Vice-Chair of Women in Intellectual Property Committee)
International Trademark Association
Example Technical Fields
Apparel and Footwear
Automotive Components
Hair Trimmers, Stands and Attachments
Wallboard Manufacturing Techniques
Magnetic Computer Disk Drives
Fuel Valves
Power Tools
Railway Maintenance Equipment
Preformed Building Panels
Fasteners