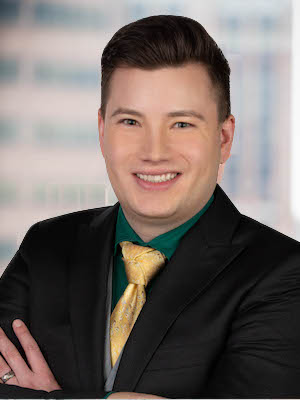 Isaku Begert is an attorney with Greer, Burns & Crain in Chicago, Illinois.  His legal practice encompasses all aspects of intellectual property law and Internet law, including patents and trademarks, with a focus on litigation, patent prosecution, and anti-counterfeiting.
Mr. Begert regularly handles matters related to trademark enforcement, e-commerce counterfeiting, and patent prosecution.
Mr. Begert received his J.D. (with honors) and an L.L.M. in Intellectual Property from DePaul University in 2019.  During law school, he served on Law Review and participated in both International Moot Court and Moot Court.  His International Moot Court team placed in the top 10 in the 2018 Philip C. Jessup International Law Moot Court Competition, while his Moot Court team earned second place in the Midwest Regionals and placed in the top 10 in the National Finals of the 2019 Saul Lefkowitz Moot Court Competition.
Mr. Begert received CALI Excellence Awards in Trademarks, Food & Drug Law, Advanced Legal Research, and Internet Law.  He also gained invaluable experience serving as a patent research assistant to Professor Joshua Sarnoff, a judicial extern for the Honorable Mary R. Harper, and a law clerk assisting in trademark litigation and patent prosecution.
Prior to law school, Mr. Begert earned a B.A. in Mathematics, with a minor in Physics and a concentration in Economics from Cornell College, where he served as Vice President of the Miltonian Literary Society.  He also led a research team investigating wave functions and structural vibrations to develop more resilient and cost-efficient building and bridge designs.
Professional Associations and Memberships
Intellectual Property Law Association of Chicago (IPLAC)
International Trademark Association (INTA)
Chicago Bar Association (CBA)
American Bar Association (ABA)
Example Technical Fields
Manufacturing, including semiconductors
Liquid Crystal Displays
Hair Clippers and Trimmers
Hospitality Industry
Financial Services
Medical Devices
E-commerce Technology
Automotive Technology
Pharmaceuticals
Alternative Energy, including solar and hydroelectricity
Bar Memberships
Supreme Court of the State of Illinois
United States District Court for the Northern District of Illinois