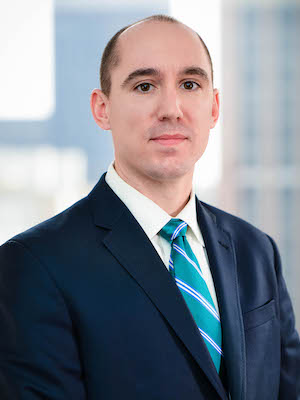 Daniel is a patent attorney at Greer, Burns & Crain in Chicago.  A former chemical engineer, Mr. Roth's legal practice at GBC focuses primarily on U.S. and international patent preparation and prosecution with a concentration in the fields of chemistry and chemical engineering.  Mr. Roth also has significant experience in preparation and prosecution of patent applications for aircraft fuselage structures, stadium seating, turbofan engines, intermodal freight equipment, optical waveguides, and satellite deployment systems, to name a few.
Mr. Roth's intellectual property legal experience also involves all aspects of intellectual property enforcement and litigation.  In addition to his litigation experience in Federal Court, Dan has experience representing and counseling clients in post grant matters such as inter partesreview (IPR) proceedings before the Patent trial and Appeal Board (PTAB). He works regularly with clients to implement strategies for patent procurement and enforcement.  Mr. Roth also has significant experience with due diligence and opinion work regarding patentability, freedom-to-operate, infringement, and patent validity.
During law school, Mr. Roth worked as a judicial extern for the Honorable Amy J. St. Eve in the U.S. District Court for the Northern District of Illinois and as an extern at the United States Patent & Trademark Office.
Mr. Roth received his J.D. from Chicago-Kent College of Law.  Prior to law school, he was awarded a B.S. (Chemical Engineering) from Missouri University of Science and Technology.  He also worked as a Chemical Engineer for the Archer Daniels Midland Company where he managed various refinery processes in the BioProducts Division.
Experience
U.S. and Foreign Patent Prosecution
Opinions on Patent Infringement, Validity, and Enforceability
Patent Litigation
U.S. Trademark Prosecution
Trademark Litigation
Professional Affiliations
American Institute of Chemical Engineers (AIChE)
Intellectual Property Law Association of Chicago (IPLAC) – co-chair of CLE committee
 Example Technical Fields
Aerospace communication systems
Aircraft components
Chemical Coatings
Chemical Compositions
Chemical Processes
Confectioneries
Detergents
Ink compositions
Inkjet Printing Technology
Medical Devices
Monitor arms
Printable Circuits
Renewable Polymers
Product Packaging
Satellite deployment systems
Sports Equipment
Stadium Seating
Turbofan engines
Bar Memberships
United States Patent and Trademark Office
Supreme Court of the State of Illinois
United States District Court for the Northern District of Illinois
United States District Court for the Western District of Michigan
United States District Court for the Northern District of Texas