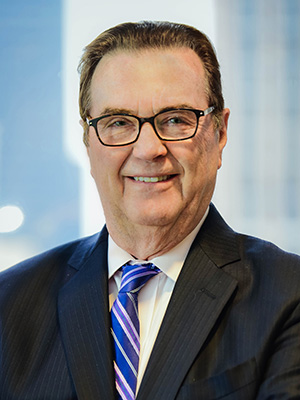 Robert Schneider is an experienced patent trial lawyer with Greer Burns & Crain with significant experience in IP prosecution, litigation, and client counseling.He concentrates in the intellectual property area focusing his almost 35 years of experience on intellectual property litigation and patent procurement.
Specialties: Intellectual Property including patent and trademark procurement, information technology, internet law and "bet the company" litigation.
Mr. Schneider has been widely recognized by the legal and business communities for his experience and achievements. Mr. Schneider is registered to practice before the U.S. Patent and Trademark Office and has extensive patent prosecution experience in electrical, mechanical, electro-mechanical, business method, communication and internet related technologies across a variety industries.
Prior to joining Greer Burns & Crain.Mr. Schneider was the Chairman of the Intellectual Property Departments at several prominent Chicago law firms.  While in law school, he was an Assistant Professor of Mechanical Engineering at the University of Cincinnati.
Experience
Worldwide patent and trademark prosecution
Trademark appeals, oppositions and interferences
Opinions on patent infringement, validity and enforceability
Trade Dress counseling, enforcement and defense
Patent, trademark, copyright, trade secret, unfair competition and contract litigation in Federal Courts
Alternative dispute resolution, including mediation and arbitration
Licensing
Bar Memberships
S. Patent and Trademark Office
Supreme Court of the State of Illinois
S. District Court for the Northern District of Illinois
S. Court of Appeals for the Federal Circuit and Seventh Circuit
Professional Associations
Chicago Bar Association
American Bar Association
Intellectual Property Law Association of Chicago
Fédération Internationale des Conseils en Propriété Industrielle
International Trademark Association
Licensing Executives Society