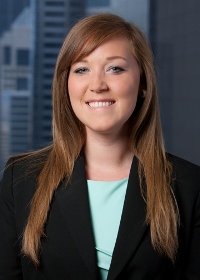 EDUCATION:
B.S., Computer Science Engineering
Michigan State University
2009
J.D., DePaul University, 2013
Mary F. Fetsco
---
Mary Fetsco is an attorney at Greer, Burns & Crain in Chicago.  She is experienced in various facets of intellectual property law including patent and trademark litigation, as well as patent prosecution.
Mary has a diverse technical and business-oriented background, with experience in designing and creating visual corporate branding elements.  She has also counseled small businesses in the development of effective branding strategies.
Mary received her J.D. from DePaul University College of Law.  While in law school, Mary actively participated in various student organizations, including serving as president of the Intellectual Property Law Society for two consecutive years.  She also worked for two years in the College of Law's Legal Writing Department as a teaching assistant, where she supported and motivated students in developing and applying proper legal writing and communication techniques.
Prior to attending law school, Mary earned a B.S. in Computer Science Engineering from Michigan State University, with a minor in business.  During her undergraduate study, Mary worked with Motorola, Inc. in developing mobile technology for integration with cable television and video-on-demand services.
Experience
U.S. Patent Prosecution
Patent and Trademark Litigation
Opinions on Patent Infringement, Validity and Patentability
Internet Copyright and Trademark Enforcement including Counterfeit Website Shut Downs
Digital Millenium Copyright Act (DMCA) Take-Down Notice Drafting and Defense
Website Design and Programming
Bar Memberships         
Supreme Court of the State of Illinois
U.S. District Court for the Northern District of Illinois
Professional Affiliations
American Bar Association
Chicago Bar Association
Intellectual Property Law Association of Chicago (IPLAC)
Example Technical Fields
Computer Systems and Circuits
Electronic Information Delivery Systems and Devices
Fasteners
Medical Devices
Mobile Software Technology
Networking and Data Communications
Telecommunication Systems and Devices
Wallboard Compositions and Manufacturing Techniques